The Riverfront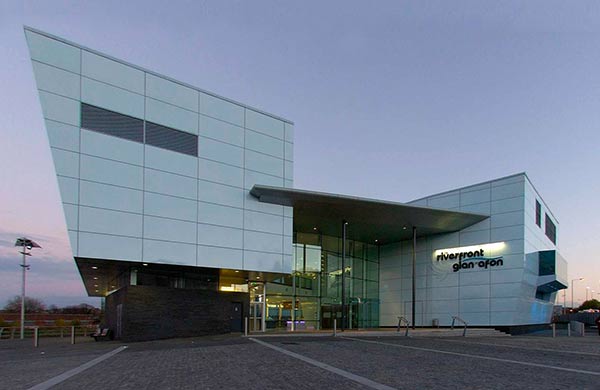 about the venue
The Riverfront aims to be accessible and welcoming to all and we are committed to making your visit as easy and enjoyable as possible.
Though it is not essential, people with a disability are advised to book in advance so we can readily provide any assistance.
Entrances: Best Approach
There are two entrances to The Riverfront, one facing the Kingsway road which has ramped access or five steps with handrails to electric sliding doors. There are also two set of push/pull doors from the riverside entrance and ramp access. E
Emergency Evacuation Information
The lift is an emergency evacuation lift so can be used to get anybody with mobility problems onto different levels. There are also a number of wheelchair sanctuary points within the stair wells on the first floor if needed.
venue facilities
Facilities
The Riverfront is over three floors, which are all accessible by lift. The ground floor foyer is all on one level to box office, café, toilets and art gallery. There is one level access to the studio theatre and main theatre. There is also one main large staircase that also includes accessible nosings. There are accessible toilets on both the ground and first floor level.
The workshop rooms, conference room, dance studio and recording studio are all accessible on one level but do have a number of doorways to negotiate.
The Basement Gallery also has lift access to the exhibition space but has limited lighting. 
Any Special Access Information
There is ramp access to the building itself with a low level service counter at the Box Office 
There is lift access to the second floor and wheelchair access and toilet facilities accessible on all levels 
The Riverfront has two designated reserved parking spaces for blue badge holders at all times and four extra spaces available in the evenings. These spaces unfortunately cannot be reserved. 
Assistance dogs are welcomed and can be cared for during performances by arrangement. 
There are nine wheelchair spaces in the theatre and eleven wheelchair spaces in the studio. 
There is an electric wheelchair charger available for any customers to use at the Box Office. 
An infra-red transmission system is available in the main and studio theatre spaces and the best quality of sound is through a headset. If you prefer to use the T switch on your hearing aid, you will need to wear an induction loop aerial around your neck. You can borrow both items from the Box Office. 
Copies of the full season brochure are available in large print and audio formats on request from the Marketing Team at The Riverfront. 
A small number of performances are audio described or interpreted in British Sign Language. There are a number of seats reserved in the appropriate area in the theatre to gain the best access to these services. These seats will be released on general sale two weeks before the show (or a month in advance in the case of the Pantomime). 
Deaf and hard of hearing and blind and visually impaired people can now enjoy the magic of cinema at The Riverfront with subtitled and audio described screenings. 
Event Spaces
The main theatre and Art Gallery are closer to the toilets but the Studio Theatre is a bit further away on the other side of the foyer. 
Getting Here: Transport / Parking 
Ideally located in the city centre of Newport, 5 minutes from the M4 and 90 minutes from London by rail with direct coach services from Heathrow and Gatwick Airports. Newport also has two other international airports – Cardiff and Bristol – within an hour's drive. 

The Riverfront is opposite the main bus station, a 10 minute walk from Newport Train Station and a 5 minute stroll from the main city shopping centre. The Riverfront is easily accessible by foot, car, coach and train. 
Download our General Information Sheet for more information on directions and our facilities. 

For more information on public transport, just call Traveline Cymru on 0871 200 22 33 or check out their website www.traveline.org.uk 
By Road From M4 (Junction 26) follow the signs to the city centre along Malpas Road (A4051), under the flyover and along Kingsway. The Riverfront is on your left hand side. It is possible to drop off and collect immediately outside the building, by pressing the buzzer at the entrance barrier at the castle side of the building. 

Parking There is a limited outside pay and display car park a bit further along the riverfront, past the Alacrity building and the indoor multi-storey Kingsway Centre Car Park is open from 7:00 until midnight every day. 
The Riverfront Car Park (just past the Alacrity building) is free after 18:30 Mondays to Saturdays, all day Sundays and all disabled badge holders. Monday to Saturday from 08:00 until 18:30, it is £1 for up to 3 hours, £3.50 for 3-5 hours and £4.50 for over 5 hours. The Kingsway Car Park is free for the first 2 hours Monday to Saturday (07:00 - 18:00), then £2 for 2-5 hours and £4 for over 5 hours. It is only £1 all evening between 18:00 - midnight, Monday to Saturdays, all day Sundays and Bank holidays. 
There is building work on a shopping centre in Newport so if you are parking in the Kingsway Car Park please exit and enter the car park near the Newport Centre.  

print page