Aberystwyth Arts Centre
Aberystwyth University
Aberystwyth
SY23 3DE
Get in Touch
call: 01970 62 32 32
email: artstaff@aber.ac.uk
visit: www.aberystwythartscentre.co.uk
Opening Times
Box Office is open: 10:00am - 8:15pm Monday to Saturday and 1:20pm - 5:30pm on Sundays.
The building is open from 8:00am - late Monday to Saturday and from 12:30pm - 8:30pm on Sundays.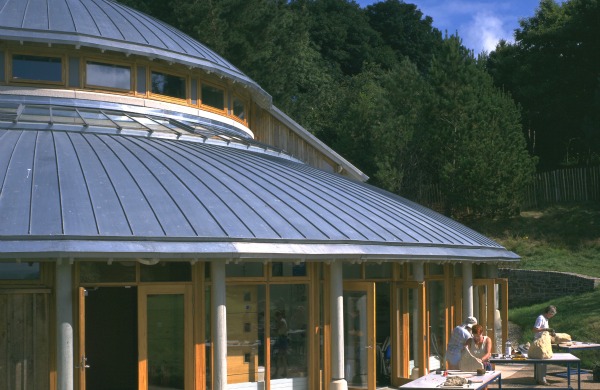 about the venue
Award winning Aberystwyth Arts Centre is Wales' largest arts centre and recognised as a 'national flagship for the arts'. It has a wide-ranging artistic programme, both producing and presenting, across all art forms including drama, dance, music, visual arts, applied arts, film, new media, and community arts and is recognised as a national centre for arts development.
The Arts Centre sits at the heart of the university's campus, with stunning views over the town of Aberystwyth and along the coastline of Cardigan Bay.
emergency evacuation information
Please follow the instructions given by our staff who will lead any emergency evacuation.
venue facilities
Ground Floor – box office, toilets, cinema, bookshop, Gallery 1, ceramic studio and 3D room,  main café, café gallery, dance studios 1 & 2, Craft & Design Shop and the main entrance route into the Great Hall (including wheelchair access).  The main lift to the upper level is by the box office.
Upper Level – Gallery 2, entry to Great Hall balcony seats,  Photography Suite & dark room, Digilab, 2D room, theatre entry points (including wheelchair access),  theatre bar, studio. There is also a rear door (automatic) that leads outside up a path to the Creative Studios (home to artists and creative companies), toilets. The lift is in the theatre foyer.
Lower Level – accessed only via stair lift to the ceramic gallery and dance studios 3 &4. The piazza café and chapel have limited access, it can involve a long route via other buildings on campus so please call for more advice.
special access information
Wheelchair access is available to all auditoria and workshop spaces in the venue.
Access at ground level to the main foyer and box office, by lift up to the theatre foyer and by stair lift down to the lower level.
Guide dogs and assistance dogs are welcomed.
Toilet facilities are accessible on all levels except the lower foyer.
Hearing loops are installed in the Great Hall, Theatre and Cinema.
further information
We are please to offer a number of subtitled screenings each month in English for customers who are hard of hearing. Audio description is also available for an increasing number of screenings. Please call the Box Office on 01970 62 32 32.
Services
We will do our best to ensure that everyone enjoys their visit to the Arts Centre. Please ask any of our staff team for help or advice.
Large print brochures are available on request. We do not currently have braille facilities within the venue, nor a braille version of our brochure.
Getting here: transport and parking
The Arts Centre is situated in the centre of the University's Penglais campus, which is reached from the A487 heading North out of Aberystwyth.
There is a large public car park next to the venue which is free during evenings and weekends (a charge is made during the day). In addition, parking for 6 cars is reserved next to the main entrance approach for drivers with limited mobility. Two spaces are also available at the rear of the theatre, with level access into the main foyer.
There are regular bus services on to the campus, and the 03 bus has a stop very close to the Arts Centre – please note however there are steps between the bus stop and the venue.
print page