Blackwood Miners' Institute
Blackwood Miners' Institute
High Street
Blackwood
NP12 1BB
Get in Touch
call: 01495 227206
email: bmi@caerphilly.gov.uk
visit: www.blackwoodminersinstitute.com
Opening Times
Open Monday to Friday 10:00 to 19:45
9:30 to 13:00 on Saturday mornings (plus an hour before each performance).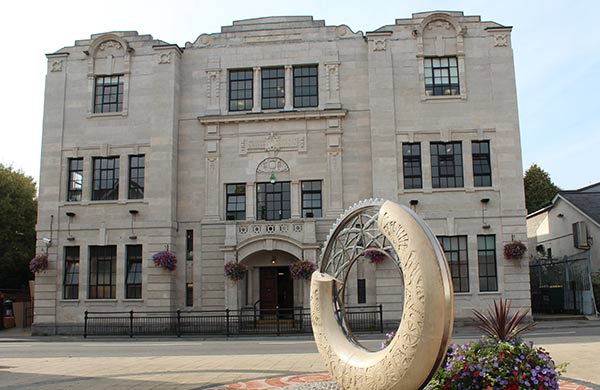 about the venue
Blackwood Miners' Institute is in the heart of Blackwood town centre, and is the only professional venue in the county borough. Our mission is to be the leading theatre within the South East Valleys, presenting the highest quality professional and community arts and entertainment, creating enriching cultural experiences for a diverse range of audiences and participants. 
Previously a Miners' Welfare Institute built in 1925 with Miners' contributions; it has had a £1.6m refurbishment completed in 2014, which included many access improvements.  

Please let us know your access requirements and we will always do our best to meet your needs.  
Event Spaces
Most of our events take place in the theatre, and there are toilets facilities next to the theatre space, including the accessible toilet.  Seats numbered 15 – 22 are on the same side as the toilet facilities. (Please let our box office staff know if you require seats near the aisle or near the toilet facilities, and we can advise).  
We also hold a small number of events in our Lower Bar, there are toilet facilities next to the Lower Bar.
Emergency Evacuation Information 
Do not use the lift in the event of a fire.
Should an evacuation take place any patrons with mobility issues will be asked to wait with an usher, until all other patrons are evacuated.  Once all non-disabled patrons have been evacuated, patrons with mobility restrictions can be evacuated with the assistance of the usher. 
From the Theatre the only flat way out is through the fire doors to the car park.  If this exit is blocked any wheelchair users or patrons with mobility issues will be asked to stay in the auditorium by the stage and await the fire service.
In the Lower Bar, all routes out of the building are flat access and suitable for patrons with mobility restrictions. 
Ushers will also assist patrons with hearing or visual impairments where needed.  
venue facilities
The Box Office, Lower Bar and Dance Studio are all on the ground floor, with level access, and there is a lift to the first floor.
The Theatre, Upper Bar, Markham Suite (meeting room), Gallery and Lounge are on the first floor, with level access. 
There are toilet facilities on both the ground floor and first floor.  The accessible toilet and baby changing facilities are on the first floor. 
The Oakdale Suite (meeting room) and Staff Office are on the second floor, these can only be accessed by stairs (no lift access).  
Special Access Information
There is lift and stair access between the ground floor and first floor.
There is stair access only between the first and second floors. 
We have an Infra Red Hearing Loop at the Box Office and within the Theatre.  We have headsets available for use with the Theatre Loop system.  Please ask our Front of House Staff if you need one. 
Row HH is reserved for wheelchair users and patrons with additional access needs.  Row HH cannot be booked online at present, please let us know (by telephone, in person, or by email) if you have access needs or require a seat in HH.  
Seating can be provided for standing room only events. Please let us know if you require a seat.  
Further Info
Assistance dogs are welcome.
We have Braille signage throughout the building.  
Services
Interval orders can be arranged in advance and we can bring your order to you in the theatre.
We will provide water for assistance dogs, please let our Front of House Staff know if this is something you need. 
The brochure is available in large print or electronically upon request – email arthuk1@caerphilly.gov.uk to ask for one.  
Getting Here Transport and Parking
Blackwood Miners' Institute is in the heart of Blackwood town centre, with plenty of public parking from just a 2-minute walk away.
We do not have a dedicated public car park, but we do have a limited number of disabled parking spaces, which Blue-Badge holders can  pre-book in advance by calling the box office on 01495 227206.  
print page