Pontio
Prifysgol Bangor University
Ffordd Deiniol Road
Bangor
Gwynedd
LL57 2TQ
Get in Touch
call: 01248 38 28 28
email: info@pontio.co.uk
visit: www.pontio.co.uk
Opening Times
Opening hours: Monday to Saturday: 8:30am - 11:00pm, Sunday 12:00pm - 8:00pm
Phone lines open: Monday to Saturday 10:00am - 8:30pm, Sunday 12:00pm - 6:00pm
Gorad Restaurant: Monday to Saturday 8:30am - last food orders 8pm, Sunday 12:00pm - last food orders 6:00pm
Cegin Cafe Monday to Saturday 8:30am - 6:00pm, Sunday Closed
Copa Kiosk: Monday to Friday 11:00am - 8:00pm (term time only)
Ffynnon Bar: Monday to Saturday 11:00am - 9:00pm (Bar Ffynnon open until 11:00pm for evening performances) Sunday 12:00pm - 6:00pm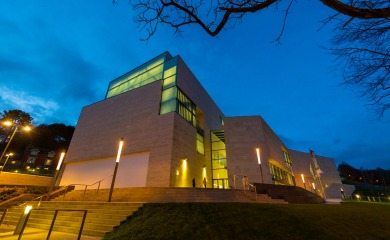 about the venue
Pontio is an arts and innovation centre in the city of Bangor, opened in 2015. Split over six levels, and with panoramic views of the ciy and along the coastline, the centre is home to a mid-scale theatre named after the world-renowned bass-baritone Bryn Terfel. It also has a Studio Theatre which holds up to 120 people and a 200 seater digital cinema. A public art piece, Caban by international artist Joep Van Lieshout, is also installed as part of Pontio's public art programme in the Pontio landscape.
The upper levels house a cutting-edge Innovation Centre and a wide range of facilities for students, including a new home for the Students' Union and numerous learning and teaching spaces.
The centre also offers a wide range of food and drink, with bar Ffynnon on the ground floor, Gorad restaurant offering panoramic views over Bangor, Cegin cafe for drinks nd snacks on the Innovation level 3 and a 'grab and go' kiosk Copa on the top floor.
event spaces
Level 0 - the main reception lobby. Here you will find the Reception, Box Office and the Theatre Bar as well as doors into Theatr Bryn Terfel Stalls and Door A of the 200-seat Cinema. You'll also find the Cloakroom here.
Level 1 - here you will find Door B into the Cinema and Doors 3 and 4 onto Theat Bryn Terfel's Balcony 1. This is also where our Changing Places room is located.
Level 2 - this is where you will find the Gorad restaurant. You'll also be able to enjoy views over to the Cathedral. You will also find access to Doors 5 and 6 of Theatr Bryn Terfel's Balcony 2, the Studio Theatre, White Box and The Cemlyn Jones Lecture Room 2. Glass doors lead out to the external performance area and Caban public art piece.
Level 3 - this is where you will find the Pontio Innovation area. With a focus on transdisciplinary working and rapid prototypig, the Co-Lab, Media Lab, Hackspace and Fablab areas are equipped with cutting-edge technologies. There is also a coffee shop Cegin on this level.
Level 4 - the new home of Bangor Students' Union with facilities for meetings and office accommodation.
Level 5 - at Pontio's uppermost level there is a large 450 seater lecture theatre. Between the two social learning and co-wrking areas there is a food kiosk serving hot and cold drinks and snacks. On Level 5, there is also an exit onto Penrallt Hill, just a few steps away from the University's Main Arts Building.
Lift - you will find a lift on every level of the building. The lifts are able to carry between 8 and 21 persons and are large enough to carry a wheelchair or buggy. All lifts have tactile buttons installed.
Stairs - the building has 6 levels with 149 stairs in total:
Level 0 - 1 = Memorial Arch steps x 20
Ffynnon steps = 19
Lefel 1 - 2 = 22
Lefel 2 - 3 = 30
Lefel 3 - 4 = 24
Lefel 4 - 5 = 35
Lefel 5 - 6 = 18
Total = 149 Main Staircase 148 Ffynnon Staircase
Handrails are available on all stairs throughout the building.
Ramps - there re several permanent ramps throughout the building inside providing access to people with wheelchairs and pushchairs. There is also an outside ramp from the drop-off point up to the main entrance.
emergency evacuation information
Please follow the instructions given by our staff who will lead any emergency evacuation.
venue facilities
toilets
Accessible toilets are available on levels 0, 1, 3 and 5 of the building and are signposted.
baby changing facilities
Baby changing facilities are available in the toilets on level 0 (ladies), 1 (ladies and mens) and 5 (mens).
cloakroom
Our cloakroom is by the side of the Box Office. Here you can drop your coat off before a performance. This is free of charge but donations are welcome to the University's chosen charity, Ty Gobaith / Hope House.
assisted hearing facilities, subtitles and audio description
We are pleased to offer a number of subtitled screenings each month in English for customers who are hard of hearing. Look out for the 'Subtitles' in the listings.
Infra Red audio description is available on all titles with 'AD' in the main synopsis of the film booklet. Contact Box Office for further information 01248 38 28 28.
wheelchairs
Dedicated wheelchair spaces are available in the Theatr Bryn Terfel, Studio, Cinema and Leture Rooms. Please request use of these spaces when booking your tickets over the phone, seats can also be booked online in Theatr Bryn Terfel and the Cinema.
assistance dogs
Assistance dogs are welcome into Pontio. Please request one of these spaces when booking your tickets.
require further assistance?
We want our visitors to enjoy their experiences in Pontio and are always happy to improve our services. If you require any further assistance or wish to give us any feedback please do not hesitate to contact us.
services
getting here transport and parking
Train - from Bangor train station head east 144 ft., turn right toward Deiniol Road / A5 26 ft., continue straight onto Deiniol Road / A5, go through 1 roundabout 0.4 miles and turn left. Pontio will be on the left.
Bus - the closest bus stop is Bangor Clock Bus Station which is approximately 5 minutes' walk from Pontio.
Car - Bangor is located near the A55 Expressway with easy access from Junction 11, A5 exit to Bangor/Betws-y-Coed - 3.5 miles (from the direction of Llandudno, Chester, Liverpool and Manchester). From Junction 9, take the A487 exit sign posted Bangor/Caernarfon - 3.4 miles (from the direction of the Isle of Anglesey). From the south, follow the A487 signposted Caernafon/Bangor. Pontio has 11 spaces reserved for blue badge holders and there are plenty of local car parks available nearby.
Air - the nearest international airports are Liverpool's John Lennon Airport, Mona Airport (Anglesey) and Manchester Airport.
Sea - the nearest port is at Holyhead on the Isle of Anglesey which is approximately 25 miles from Bangor along the A55 Espressway. Ferry services are available by Irish Ferries and Stena Line operating between Dublin Port, Dun Laoghaire and Holyhead.
Coach - the coach drop-off point is situated on Deiniol Road in front of the building. If possible, please request use of the drop-off Point by contacting Pontio Front of House and Facilities Manager on 01248 383 058.
languages
Pontio staff and stewards speak multiple languages. All Welsh speaking staff and stewards will wear a Welsh language badge.
assistance
We are always happy to help. Please ask any member of the team if you need any assistance during your visit.
print page