Swansea Arena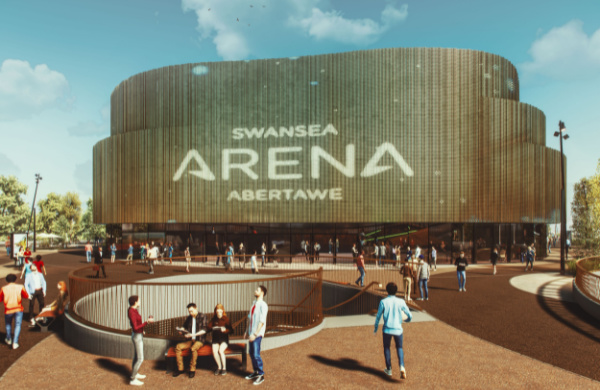 about the venue
the auditorium 
The focal point of the Arena and your time with us, the Auditorium is purpose-built with functionality and comfort in mind throughout, allowing us to host some of the world's top acts in music and comedy, as well as world-class theatre productions, conferencing and exhibitions. 
At full capacity, we can host 3,500 with a mixture of standing and seating in Stalls and Circle. For smaller capacity, or fully seated shows, retractable seating can be employed to ensure that each show or event is laid out in such a way that you're always at the heart of the action. 
perfomance information 
Audiences should reasonably expect pyrotechnics, strobes and loud sounds when attending shows at Swansea Arena. However, as the content changes on a show-to-show basis, please contact us for specific details. 
Those who are sensory-sensitive are advised to bring any equipment needed for support, for example, ear defenders. Where possible, we will be offering relaxed performances. 
venue facilities
food and drink 
All sales points and kiosks have dropped counters for easy service, and our VIP Lounge also has step free access should you wish to upgrade your viist. Once launches, our at your seat ordering service will allow you to order food and drinks directly to your location within th eaudiorium through your smart phone to help customer avoid queues or corwded areas as required. 
accessible toilets and changing places facility 
Accessible toilets are available on each level inside the venue. 
Fully accessible toilets can be found on each level of the Arena and our brand-new Changing Spaces facility is located on the ground floor. 
The 'Changing Places' toilet is located on the Main Level 2 Concourse at Coastal Park level within Swansea Arena. Full information and the features of the changing places facilities will be available very soon! 
family friendly facilities 
There are baby change facilities available. Baby feed facilities are available upon request. 
Breastfeeding mothers are very welcome - please ask if there is something you need to make your viist more comfortable. 
special access information 
wheelchair accessibility 
With step free walkways leading to our front entrance, and all areas inside our venue served by two lifts, Swansea Arena is designed with access in mind. There is level access throughout the Arena. 
A brand-new sloping walkway leads directly from the city centre across the new Copr Bay Bridge to the front entrance of the Arena, Further to this, a sloping walkway has been added from Oystermouth Road leading through the Coastal Park. A staircase and lift are located in the adjacent car park to provide easy access to the main entrance level. 
access ambassadors 
A dedicated Access Ambassador will be available at the entrance to anser any questions upon your arrival and help guide customers to the bars, food kiosks or to their ticketed area as needed. We have a dedicated Access Door (Door A at Coastal Park level) leaving onto the main concourse, and our Access Ambassador will be waiting here to greet you at your viist. 
For any show specific themes or effects you'd like to be made aware of, please email our ticketing team on swanseaboxoffice@theambassadors.com and they will be happy to help! 
further info
assistance / guide dogs 
Specially trained Assistance and Guide dogs are welcome in the Arena. 
For guests who require their dog to be with them at all times, we kindly ask you to notify us at the time of booking so we can ensure you are seated in an appropriate location. For the welfare of the dogs, other customers and to maintain safe venue evacuation routes, dogs are only allowed within designated seating areas within the arena. 
We would recommend that dogs are not taken inside the auditorium where possible and as such we are happy to look after your dog for you in a sage and secure environment. We have a designated area with water bowls and staff will take them outside for comfort breaks at regular intervals. Simply speak to a member of staff upon arrival and feel free to give us any specific instructions to ensure a happy experience for both you and your dog. 
Please ensure that your dog is either identifiable as a trained assistance/guide dog or that you can provide the necessary training paperwork for them. 
services
access performances 
We have access performances across some shows here at Swansea Arena. For more information on the current access performances, please email us on swanseaboxoffice@theambassadors.com. 
mobile connect 
Our auditorium has been installed with a Mobile Connect system that will enhance the experience of visually impaired patrons or those who are hard of hearing. 
The Mobile Connect system provides an amplified performance for those who need it via personal mobile phone or tablet. If you are not familiar with this service, here is some further information to assist you before arriving for a performance: 
Anyone using this system will be able to hear a live feed of the perofmance on stage (with Audio Description if attending an Audio Described performance) through  aheadset or directly through their hearing aids from wherever they are sitting throughout the auditorium. If you are listening through hearing aids, please ensure these are Bluetooth compatible. 
If you have either an iPhone/iPod/iPad or an android smartphone you can download the free Sennheiser Mobile Connect App from the app store through a WiFi connection (Downloading using your roaming data may incure extra data charges).
Bring your fully charged device with the latest version of the app installed and your own headphones to use in the venue. Alternatively, please ask a member of staff upon arrvial if you wish to borrow a device or headphones. 
Connect to the Mobile Connect WiFi once inside the auditorium on arrival and make sure that your data is switched off and your phone is on silent. For the best expereince, you may wish to switch your device to airplane mode. The Mobile Connect App will still work under this function. 
what we can offer
Familiarisation visits can be arranged
Supportive and friendly staff 
Early entry into the auditorium may be possible to arrange
Families are urged to get in touch with us if they have specific requirements to help support their visit. 
getting here: transport and parking 
car
Swansea Arena is easily accessible by car via the M4. 
Use Junctioin 47 if you are heading from the West (Carmarthen)
Use Junction 42 if you are coming from the East (London/Cardiff)
There are seceral car parks located within close proximity of the Arena, including two brand-new purpose-built car parks located either side of the Oystermouth Road. 
train 
Swansea Arena is a 10-minute walk or 6-minute drive from Swansea Train Station. 
Swansea is well served by high-speed First Great Western traijns from London and frequent Transport for Wales trains run from West Wales, the Marches, the Midlands and the South-West. 
bus 
Swansea Arena is served by local bus routes coming from in and out of the City Centre. The nearest stop to the Arena is Swansea Bus Station, located in The Quadrant. 
Left Luffage Storage is available until 17:00, Monday-Saturday in Swansea Mobility Hire, located within the Bus Station. 
print page