Taliesin Arts Centre
Taliesin Arts Centre
Swansea University
Singleton Park
Swansea
SA2 8PZ
Get in Touch
call: 01792 295238
email: customerservice@taliesinartscentre.co.uk
visit: www.taliesinartscentre.co.uk
Opening Times
Monday to Friday 10:00 – 17:00
Saturday 10:00 - 13:00 & 13:30 – 16:00
Sunday: 2 hours prior to the event start time if there is a performance
The box office will remain open on performance eveningsuntil 15 minutes after the perfomance starts.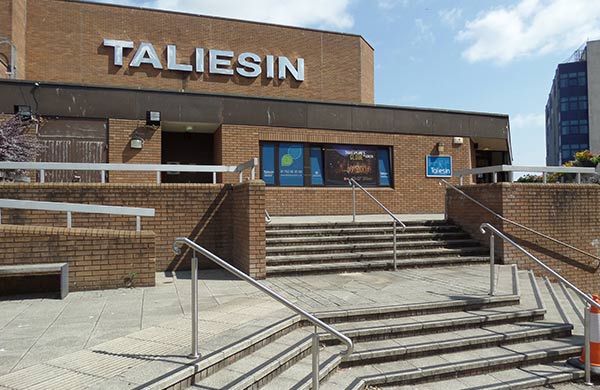 about the venue
Taliesin Arts Centre is a 30 year old building on Swansea University Campus.  A warm welcome awaits visitors at Taliesin.  Our emphasis is creating access for all. We are always happy to receive feedback, and continually look to improve the 'visitor journey'.
entrances: best approach
Power assisted doors
Box Office is on ground level, access on the side of the building is flat. Access at front of building via steps.
Auditorium is on the first floor accessed internally by stairs or lift. Externally by steps and ramp.
spaces
There are two entrances into the auditorium. There are toilets in the foyer / café area just outside the auditorium. Our seats with low numbers are closest to toilets.
emergency evacuation information 
In the event of evacuation the FOH manager will come into auditorium and make an announcement.  Stewards and Arts Centre Assistants will give assistance as required.  Evacuation chair is available to use as necessary.  Wheelchair spaces are close to emergency exits allowing swift and easy access by ramp.  All staff receive comprehensive training on evacuation procedure.  Please discuss any concerns you may have with FOH Manager.
venue facilities 
Level access and lift to all public areas
Auditorium is on the first floor accessed internally via stairs or lift.  Externally via steps and ramp
Toilets including accessible toilet on first floor. 
Café / bar on first floor, with low level counter, used by, visitors, students and staff,
Box Office with low level counter and Gallery on ground floor
Egypt Centre on ground floor and first floor
Bank, bookshop and cashpoint on ground floor
any special access information
Level Access into auditorium from foyer
Tiered seating in auditorium
Level access to row G, 2 wheelchair spaces, 2 easy access seats
Hearing loop in auditorium
Infrared headsets available for audio enhancement at all screenings and performances. Headsets for audio description where available (cinema only).
Subtitles on selected performances (as advertised on website, brochure)
Lift from ground to first floor
Further info
Guide dogs are welcome. Please tell Box Office Staff and FOH staff. 
Casualty chair available to be used as required
Defibrillator in foyer
Induction loop at box office and Front of House along with auditorium
Auditorium visits can be arranged prior to performance for individuals or small groups upon request.  Also on performance evenings FOH Staff are happy to show visitors auditorium before house opening, time permitting
services
FOH staff pleased to assist with interval drinks as requested
Assist walking to car park if required, if assistance is needed on arrival please request at box office beforehand
If customers with mobility issues order tickets online FOH staff are happy to collect tickets from box office.
Brochure available in Braille upon request from Box Office or Marketing department.
getting here: transport / parking 
Bus numbers 2A and 3A depart for the University from Stand No2 at Swansea Quadrant Bus Station approx every 15 minutes. These buses will bring you onto campus, and around a 3 minute level walk to Taliesin.
After 16:00 visitor parking is permitted on campus.  Taliesin car park is signposted.  Disabled parking is available in Taliesin Car Park.  
Only disabled visitors are allowed to park on the University campus during the day. All other visitors are advised to park in the Recreation Ground Car Park
A cycle rack is located directly outside Taliesin
print page